Amberlocks is a pony in the G3 franchise.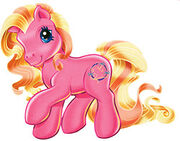 Welcome to the CELEBRATION SALON! Whenever there's a celebration in Ponyville, this special salon becomes the busiest place in town. All the ponies are here today to get dressed up for the Ponyville Celebration, and Amberlocks is helping her friends look prettier and fancier than ever! As she combs and styles their hair, AMBERLOCKS helps them choose their best party outfits... and tells the latest stories of Ponyville, too! - Amberlocks' backcard story from the back of the playset's box.
Appearance
Edit
Amberlocks is red with gold and orange hair. Her eyes are blue and her cutie mark is yellow hairlocks tied with teal bows and held with purple bands. She had no on-screen appearances.
Merchandise
Edit
Amberlocks was included with the Celebration Salon (Lovely Locks Salon in international releases) originally on its own but later packaged with three other ponies.