Apple Spice is a pony from the G3 franchise.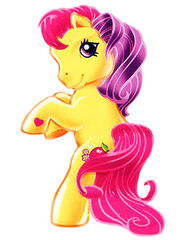 Take a walk around BUTTERFLY ISLAND and you'll spot a beautiful apple orchard. APPLE SPICE planted all those trees herself! "I had to," she says, "To have enough apples for all my yummy tarts and pies!" - Apple Spice's backcard story from the back of her toy's box.
Appearance
Edit
Apple Spice is yellow with pink and purple hair. Her eyes are violet and her cutie mark is a dark pink apple with two violet flowers. She first appears in Friends Are Never Far Away with Bowtie as Twinkle Twirl enlists them to help her practice the dance routine. Later, she's with other ponies in a conga line at the end of the movie. In The Princess Promenade, she can be seen among the crowd at various times. In Positively Pink, she's among the ponies to discuss how best to handle Pinkie Pie's surprise party. In Twinkle Wish Adventure, she doesn't have major roles but can clearly be seen with Cupcake helping to stablize Mayor Flitter Flutter whom had fainted as a result of what she'd just heard.
Merchandise
Edit
Apple Spice was released as part of the Butterfly Island Sunny Scents Ponies.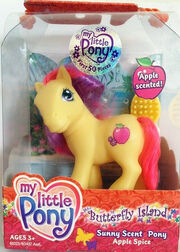 Ad blocker interference detected!
Wikia is a free-to-use site that makes money from advertising. We have a modified experience for viewers using ad blockers

Wikia is not accessible if you've made further modifications. Remove the custom ad blocker rule(s) and the page will load as expected.