Applejack
Edit
Applejack is a minor character in the G3 franchise.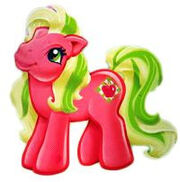 If you're looking for APPLEJACK, you can almost always find her in Pony Park, having a picnic next to the Rainbowberry Fountain. She loves to pack a basket full of yummy treats and share them with her friends. Sometimes she takes her basket to Pony Beach, and goes for a swim after lunch. APPLEJACK has lots to do for today's picnic.- Applejack's backcard story from the back of her toy's box.

Appearance
Edit
Applejack is red with green and yellow hair but in her cartoon cameos, she's orange. Her cutie mark is a red apple with a green and white
checkered blanket.

Merchandise
Edit
Applejack was released in the "Tea Party" two pack with Spring Fever. and individually with the Picnic Celebration playset.