April Mist is a character from the G3 franchise.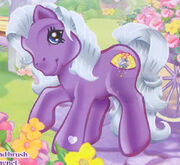 More than anything else, APRIL MIST loves to get flowers on her birthday! She takes some blooms from a bouquet, weaves them into a crown and wears it all day! - April Mist's backcard story from the back of her toy's box.
Appearance
Edit
April Mist is purple with white hair. Her eyes are dark blue and her cutie mark is a yellow umbrella with purple fringe a pink bow on top and a white gem. She had no on-screen appearances.
Merchandise
Edit
As with the other Jewel Brithday Ponies, April Mist was a Toys 'R Us Exclusive and thus was harder to find than other
ponies.
Ad blocker interference detected!
Wikia is a free-to-use site that makes money from advertising. We have a modified experience for viewers using ad blockers

Wikia is not accessible if you've made further modifications. Remove the custom ad blocker rule(s) and the page will load as expected.