Beachberry is a pony from the G3 franchise.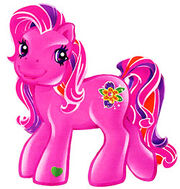 BEACHBERRY gets to the shore early to set up for the ponies' beach volleyball tournament. She really likes to win, but at the end of the day she hands out prizes to all the ponies, just for playing their best! - Beachberry's backcard story from the back of her toy's box.
Appearance
Edit
Beachberry is pink with red, orange and purple hair. Her eyes are purple and her cutie mark is an orange flower with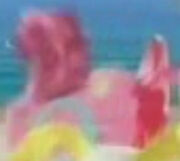 two blueberries. She appears in a TV advertisement for Scooter Ponies and Dress-Up Ponies during the 3D animation at the beginning. She can be seen twirling in the background as Breezie passes by on her scooter.
Merchandise
Edit
Like Kiwi Tart, her merchandise was rather limited, being only her single pony release.