Bee Bop is a character from the G3 franchise.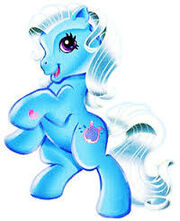 Can you hear someone humming a catchy tune? Then you know BEE BOP is around! Whenever she's not singing a song, she's learning to play another instrument... she already plays 10, including the harp! - Bee Bop's backcard story from the back of her toy's box.

Appearance
Edit
Bee Bop is blue with white hair. Her eyes are purple and her cutie mark is a pink harp with two blue music notes. She had no on-screen appearances.
Merchandise
Edit
Bee Bop had a very limited amount of merchandise, having only three figurine releases over the course of G3's run.