Bowtie is a character from the G3 franchise.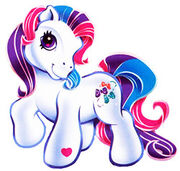 What's that colorful object in the sky? Another one of BOWTIE's beautiful kites! She likes to run as fast as she can along the shore, flying as many as ten kites at a time!
Appearance
Edit
Bowtie is white with red, purple and blue hair. Her eyes are purple and her cutie mark is a bowtie of each of her hair colors. She had cameos in most or all of the G3 movies and shorts in which she had green eyes and an extra green stripe in her hair. In Friends Are Never Far Away, she can be seen at the end oif the movie dancing in a conga line. In A Very Minty Christmas, she's giving a gift to Cotton Candy. In The Runaway Rainbow, she's with Pinkie Pie listening to Rainbow Dash's rainbow story. In the Princess Promenade, she can be seen in the crowd when Wysteria explains what being a princess  is all about.In Positively Pink, she, Daisyjo and Gem Blossom help get set-up for Pinkie Pie's surprise party.
 Merchandise
Edit
Bowtie was released as a single pony and was included with the Wonder Waves Surf Shop and the 4-pack released during the 25th anniversary of the franchise.
Bowtie is also the name of a G1 character.
Ad blocker interference detected!
Wikia is a free-to-use site that makes money from advertising. We have a modified experience for viewers using ad blockers

Wikia is not accessible if you've made further modifications. Remove the custom ad blocker rule(s) and the page will load as expected.