Brights Brightly is a yellow unicorn and one of three main unicorns in Unicornia. Her hair is dark orange and pink while her eyes are dark blue.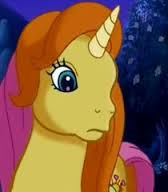 Appearance
Edit
Brights Brightly first appears in The Runaway Rainbow as she is part of the trio of ponies whose shooting stars indicate how close the time is for making the first rainbow of the season. She's first seen playing with Whistle Wishes when they end up having to clean the Crystal Rainbow Carriage, which had been dirty. Later, she's seen playing with Rarity and Whistle Wishes using the lights and ends up getting tangled up after Rarity's song is over. In Come Back Lily Lightly, she and others regret their inadvertant ridicule that makes Lily Lightly run away after her horn lights up. They find her and eventually make amends.
Merchandise
Edit
Brights Brightly received two figurines, a regular version and a larger Styling Size version.
Ad blocker interference detected!
Wikia is a free-to-use site that makes money from advertising. We have a modified experience for viewers using ad blockers

Wikia is not accessible if you've made further modifications. Remove the custom ad blocker rule(s) and the page will load as expected.