Bubblecup is a character from the G3 franchise.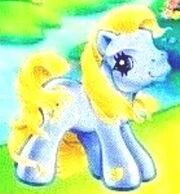 Appearance
Edit
Bubblevcup is light blue with yellow hair. Her eyes are purple and her cutie mark is bubbles with a red bubble wand. she had no on-screen appearances.
Merchandise
Edit
Bubblecup was only included with Wishawhirl and Garden Glade for the 2004 Spring Basket.