Bumblesweet is a pony from the G3 franchise.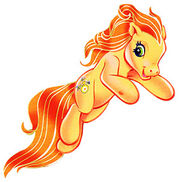 Everybody says BUMBLESWEET is just as sweet as honey - and they're right! She likes to make sweet things to eat, too - like fudge and jellybeans and rainbow-colored taffy! No wonder her friends like to drop by and see what's cooking! - Bumblesweet's backcard story from the back of her toy's box.
Appearance
Edit
Bumblesweet is light orange with orange hair. Her eyes are green and her cutie mark is a honey jar with three bees around it. In her on-screen appearences, Bumblesweet is gold with dark gold hair. Bumblesweet first appears in A Very Minty Christmas among the crowd listening to Pinkie Pie's speech. Later, in The Runaway Rainbow, she's seen just before Rarity skates over a bridge during the song "I Just Wanna Have Fun" and is intrigued by what's going on. In Positively Pink, she's seen among the ponies getting set up for Pinkie Pie's surprise party during the song of the same name. In Twinkle Wish Adventure, she's generally among the crowd.
Merchandise
Edit
Bumblesweet had a small amount of merchandise, generally from her figurine releases. Bumblesweet was also released as a value pack with Sweetsong and Serendipity.