Bunches-O-Fun is a pony from the G3 franchise.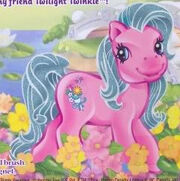 BUNCHES-O-FUN builds the most unusual dollhouses - they're all made out of flowers! The walls are made of daisies, while dozens of roses create a beautiful red roof. Inside the house, her dolls sit down on pretty pink tulips! - Bunches-O-Fun's backcard story from the back of her toy's box.
Appearance
Edit
Bunches-O-Fun is pink with teail hair. Her eyes are dark teal and her cutie mark is a flower bouquet. She has one
cameo in a TV comemrcial for the Roller Skate Party Cake playset as part of an animation. She can be seen in the background with
Triple Treat
as
Pinkie Pie
passes by on her roller skates.
Merchandise
Edit
Bunches-O-Fun had a fair bit of pony merchandise, including a value pack and a playset only available at discount chain stores.