Cheerilee is a a unicorn pony from Unicornia. She's generally the one to look after Rarity and is shown giving the lesson on making the first rainbow of the season in The Runaway Rainbow. She isn't easily distracted and is somewhat strict when doing a lesson to make sure the viewer (often Rarity) is listening.
Appearance
Edit
Cheerilee originally was violet with reddish pink hair. She first appears in The Runaway Rainbow explaining the process to Rarity using the special magic wand that will make the first rainbow appear. When Rarity disappears, she's one of the unicorns to look for her but isn't optomistic about getting the first rainbow in time. In fact, she is hesitant to put her horn with the others to help make the first rainbow appear. She then appears for the song "So Far Apart" where she and Rarity form a duet to sing about their troubles. She is also one of the ponies with a shooting star that appears as the time draws near to make that first rainbow.
In 2008, a 2nd pony named Cheerilee appears as part of the Core 7 era of G3 after being previously named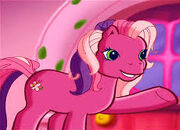 'Cherry Blossom". This pony was dark reddish purple with light pink, pink and purple hair and bright greeen eyes. She loves to read stories her only apperances are the G3 comics (as Cherry Blossom), Twinkle Wish Adventure, where she's even younger and the animated shorts.
Cheerilee is one of multiple characters to be later given incarnations in the FiM cartoon. The others are Rarity, Sweetie Belle, Scootaloo Sunny Daze, Peachy Pie. Minty has also been released as a G4 toy but has made no apperances on the show.
Cheerilee was only released as a Styling Size figurine.
Contrary to the original Cheerilee, the Cheerilee that was in Core 7's era is related to the Core 7 version of Scootaloo. In fact, Scootaloo is her little sister.
Ad blocker interference detected!
Wikia is a free-to-use site that makes money from advertising. We have a modified experience for viewers using ad blockers

Wikia is not accessible if you've made further modifications. Remove the custom ad blocker rule(s) and the page will load as expected.