Fair Weather is a character from the G3 franchise.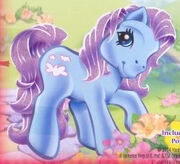 FAIR WEATHER loves to take hot air balloon rides. Once she took 20 rides in one day! And when she flies really high, she can look down and see all of PONYVILLE... and all her friends waving up at her! - Fair Weather's backcard story from the back of her toy's box.
Appearance
Edit
Fair Weather is light blue with purple hair. Her eyes are dark blue and her cutie mark is three clouds. She had no on-screen appearances.
Merchandise
Edit
Fair Weather was released as a Perfectly Pony in 2005. Later, she was packaged wtih Dibble Dabble as a value pack.
Ad blocker interference detected!
Wikia is a free-to-use site that makes money from advertising. We have a modified experience for viewers using ad blockers

Wikia is not accessible if you've made further modifications. Remove the custom ad blocker rule(s) and the page will load as expected.