Fiesta Flair is a minor character first seen in "Pinkie Pie's Ladybug Jamboree" as one of Pinkie Pie's band members. Later, she is seen in the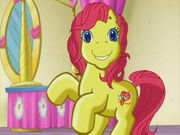 background dancing to the song she's supposed to be making. She also appears in "The Princess Promenade working to get the float she and Cotton Candy are working on and is successful with help from the Breezies.
Eye color: Light blue
Body Color: Yellow
Hair color: Red
Symbol: Maracas
Personality
Edit
Fiesta Flair speeks with a slight Spanish accent and loves playing the maracas. In fact, she can be seen dancing while using them during practice.
Ad blocker interference detected!
Wikia is a free-to-use site that makes money from advertising. We have a modified experience for viewers using ad blockers

Wikia is not accessible if you've made further modifications. Remove the custom ad blocker rule(s) and the page will load as expected.