Fiesta Flair is a minor character first seen in "Pinkie Pie's Ladybug Jamboree" as one of Pinkie Pie's band members. Later, she is seen in the background dancing to the song she's supposed to be making. She also appears in "The Princess Promenade working to get the float she and Cotton Candy are working on and is successful with help from the Breezies.
Appearance
Edit
Fiesta Flare is yellow wih red hair and blue eyes. Her cutie mark is a pair of maracas, which is what she was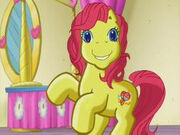 playing during "
Pinkie Pie and the Ladybug Jamboree
". However, despite being shown practicing, she's seen in the crowd during the actual performance.
Personality
Edit
Fiesta Flair speaks with a slight Spanish accent and loves playing the maracas. In fact, she can be seen dancing while using them during practice.