Fizzy Pop is a character from the G3 franchise.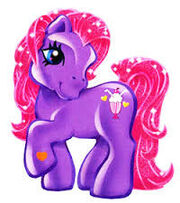 There are so many fun things to do at the beach, FIZZY POP can hardly decide which one to do first! She likes having fun in the sun, but her favorite activity is at night - watching super-duper fireworks display over the water! - Fizzy Pop's backcard story from the back of her toy's box.
Appearance
Edit
Fizzy Pop is purple with pink and dark pink hair. Her eyes are blue and her cutie mark is a milkshake sundae with two yellow hearts on each side. Her apperances were minor as she's generally among crowds but she was in miltiple movies, including Twinkle Wish Adventure. In "Dancing in the Clouds", she's among the ponies riding the rollercoaster and when the ride is over, she suggests to go again. In "A Very Minty Christmas", she can be seen pouring hot chocolate  in the movie's opening song. Later, she's among the ponies figuring out who fixed their previously damaged tree. Despite not having any major appearances in "The Runaway Rainbow", she appears in the Game Boy Advance adaptation as a background character at Cotton Candy Cafe. She can be seen when passing through one of the rooms.  In "Twinkle Wish Adventure", she can be seen at the very end when Whimsy Weatherbe helps out with Sweetie Belle's wish for pink snow.
Merchandise
Edit
Despite her multiple cameos and a bit of a bigger appearance in Dancing in the Clouds, Fizzy Pop had little merchandise but had more than other ponies in previous themes of the toy line.