Flippity Flop is a character from the G3 franchise.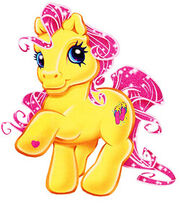 There's so much to do at the beach, FLIPPITY FLOP can't decide what to do first! Should she water-ski or fly a kite? Her solution: she ties the string of the kite around her waist, and watches it sail as she skies on the water! Flippity Flop's backcard story from the back of her toy's box.
Appearance
Edit
Flippity Flop is yellow with dark pink hair. Her eyes are blue and her cutie mark is a pair of pink, blue and yellow flip flops. She had no on-screen appearances.
Merchandise
Edit
Flippity Flop's merchandise was rather limited, being only released as a standalone figurine and as a bonus pony with the Rainbow Wishes Amusement Park playset.
Ad blocker interference detected!
Wikia is a free-to-use site that makes money from advertising. We have a modified experience for viewers using ad blockers

Wikia is not accessible if you've made further modifications. Remove the custom ad blocker rule(s) and the page will load as expected.