This is about the G3 pony. For the FiM pony, click here.
Fluttershy is a pony from the G3 franchise.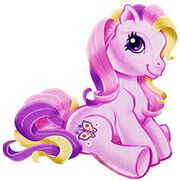 Smile for the camera! You never know when FLUTTERSHY is going to take your picture! She loves to take pictures of her friends having fun. When she's not snapping photos, she likes to window-shop at all the sweet boutiques in Ponyville. - Fluttershy's backcard story from the back of her toy's box.
Appearance
Edit
Fluttershy is light pink with gold, pink and purple hair. She had no G3 cartoon appearances.
Merchandise
Edit
Despite the lack of media appearances, Fluttershy did have multiple toy releases.
Ad blocker interference detected!
Wikia is a free-to-use site that makes money from advertising. We have a modified experience for viewers using ad blockers

Wikia is not accessible if you've made further modifications. Remove the custom ad blocker rule(s) and the page will load as expected.