Forsythia is a pony in the MLP franchise.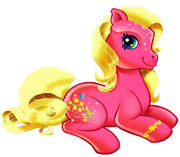 Whenever a friend needs to talk, FORSYTHIA makes a pot of hot cocoa and a plate of cookies. After an afternoon of sweet treats and pony games, everyone's smiling again! - Forsythia's backcard story from the back of her toy's box.

Appearance
Edit
Forsythia is dark pink with yellow hair. Her eyes are green and her cutie mark is forsythia flowers and a blue butterfly. Her appearances are generally as a background character, though she appears more prominantly in "Pinkie Pie and the Ladybug Jamboree" where she is one of Pinkie Pie's mistaken, or perhaps even actual band members. She is seen right behind Pinkie Pie as the song begins and ends up on the far right of the stage. She also appears in the Best Friends Ball PC game as a pony that owns the Celebration Salon.
Merchandise
Edit
Forsythia was released in 2004 as part of the Friendship Ball Sparkle ponies, which feature glitter on their forehead and cutie mark. She was later re-released as part of the Playtime Cottage Book and Beauty set.