Gem Blossom is a minor character in the G3 movies.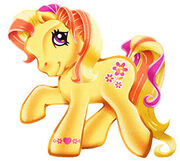 Appearance
Edit
Gem Blossom is yellow with orange, yellow and dark pink hair. Her cutie mark is three flowers while her eyes are pink. She first appears in "Dancing in the Clouds" as a background character watching the roller coaster in action. Later, she's among the ponies practicing for the Friendship Ball and is also seen during the final performance at the end. In A Very Minty Christmas, she's among the ponies listening to Pinkie Pie's speech about Christmas and its festivities.
Merchandise
Edit
Gem Blossom was released as part of the Jewel Pony theme, featuring a jewel over part of her cutie mark. She was also released in a four pack with the Bloomin' Blossoms Shop playset.
Ad blocker interference detected!
Wikia is a free-to-use site that makes money from advertising. We have a modified experience for viewers using ad blockers

Wikia is not accessible if you've made further modifications. Remove the custom ad blocker rule(s) and the page will load as expected.