Glitter Glide is a minor character in the G3 movies and franchise.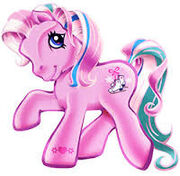 GLITTER GLIDE loves to skate, especially when she spins 'round and 'round! She doesn't even mind when she gets dizzy -- which happens quite a lot! - Glitter Glide's backcard story from the back of her toy's box.
Appearance
Edit
Glitter Glide is pink with white, pink, blue and dark green hair. Her eyes are bluish purple and her cutie mark is a pair of ice skates. She's first seen  in A Very Minty Christmas exchanging gifts with Bowtie. Later, she's among the crowd of ponies listening to Pinkie Pie's speech and is generally among the crowd at other times in the movie. In The Princess Promenade, she's with Fiesta Flair helping to pull a heavy piece of their float into place and gets help from the Breezies. She's also seen when Wysteria introduces Spike.
Merchandise
Edit
Glitter Glide was released as a standalone ice skating pony or as a two pack with either Glitter Glide or another pony and has a unique feature of being joined as two halves, allowing her to be posed in more ways than regular pony figurines.
Ad blocker interference detected!
Wikia is a free-to-use site that makes money from advertising. We have a modified experience for viewers using ad blockers

Wikia is not accessible if you've made further modifications. Remove the custom ad blocker rule(s) and the page will load as expected.