Heather Winds is a character from the G3 franchise.
For HEATHER WINDS, nothing is more exciting than going on a camping trip. The best part is sitting around the campfire telling funny stories. When it's time for bed, she falls fall asleep counting all the stars in the sky above her! - Heather Winds' backcard story from the back of her toy's box.
Appearance
Edit
Heather Winds is purple with light blue-purple hair. Her eyes are teal and her cutie mark is a heather plant blowing in the wind. She had no on-screen appearances.
Merchandise
Edit
Heather Winds was a part of the Perfectly Ponies part of the Butterfly Island theme.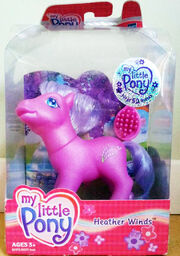 Ad blocker interference detected!
Wikia is a free-to-use site that makes money from advertising. We have a modified experience for viewers using ad blockers

Wikia is not accessible if you've made further modifications. Remove the custom ad blocker rule(s) and the page will load as expected.