Island Rainbow is a character from the G3 franchise.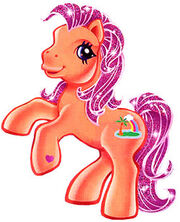 For ISLAND RAINBOW, a trip to the beach is all about swimming. She's been known to get some of her friends to join her by splashing them with a bucket of water! - Island Rainbow's backcard story from the back of her toy's box.
Appearance
Edit
Island Rainbow is orange with dark pink hair. Her eyes are dark blue-purple and her cutie mark is a rainbow over a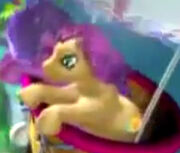 n island. She had no on-screen appearances outside of a 3D animation at the beginning of a commercial for the Butterfly Island Adventure playset. This animation was reused for the Butterfly Island Adventure online game.
Merchandise
Edit
Island Rainbow's merchandise was rather limited. Her only known release was as a regular pony for the Butterfly Island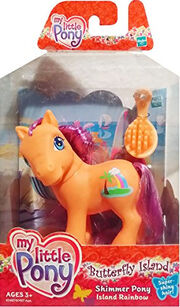 theme. She was advertised on the Rainbow Wishes Amusement Park box but was not included with the playset.