Kimono is a character from the G3 franchise. She is a light purple pony with dark purple hair. Her eyes are light green and her cutie mark is two paper lanterns.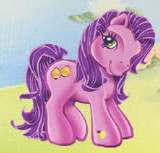 "This is Kimono, the wisest pony in the land. Kimono is the keeper of all precious pony legend and lore. She is, of course, very smart, and up until now, very hard to surprise. ... Yes, yes, yes, it was a charming—and big—birthday after all!"  - Razzaroo's description of Kimono in "A Charming Birthday".

KIMONO is always very busy, but she's never in a hurry. She takes time to enjoy every minute of every special day, having fun with all her friends! - Kimono's backcard story from the back of her toy's box.
Appearances
Her only appearance is partway through "A Charming Birthday" where she is asked for advice from Minty, who is trying to avoid giving away the gift for her. However, the movie is centered around her as the ponies are trying to do the one thing they hadn't been able to do before; surprise her, as Kimono had proven to be too smart for them in the past. Kimono is able to provide the advice Minty needs and is finally surprised with a new charm bracelet at her birthday party. She gladly accepts it as a very very special charm bracelet and promises to cherish it and their friendship forever.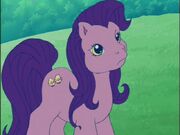 Merchandise
Despite not having a prominent role in any of the G3 movies, Kimono received a handful of merchandise and was featured in some of the books and comics, not to mention is on the cover of "A Charming Birthday".
Trivia