Loop-De-La is an ice skating pony much like Glitter Glide and a character in the G3 franchise and movies.
LOOP-DE-LA is practicing her ballet moves, and she's really getting quite good! As she likes to say, "Practice makes perfect!" - Loop-De-La's backcard story from the back of her toy's box.
Appearance
Edit
Loop-De-La is light green with pale pink purple and dark pink hair. She has two dark pink-colored ballet slippers for a cutie mark and blue eyes.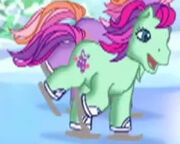 She first appears with Gem Blossom in Dancing in the Clouds watching Skywishes and others ride the roller coaster. Later, she makes a cameo in A Very Minty Christmas ice skating with Twinkle Twirl on the frozen pond.
Merchandise
Edit
Loop-De-La was released as a stand-alone pony or as a two-pack with either Glitter Glide or another pony and features her body split in two, allowing her to be posed in more ways than other pony figures.
Ad blocker interference detected!
Wikia is a free-to-use site that makes money from advertising. We have a modified experience for viewers using ad blockers

Wikia is not accessible if you've made further modifications. Remove the custom ad blocker rule(s) and the page will load as expected.