Magic Marigold is a character from the G3 franchise.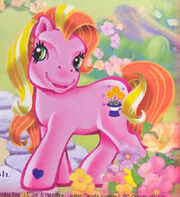 Everyone's excited when MAGIC MARIGOLD comes to a party, because they know she'll perform a magic show. "Magic tricks are easy," she says. "The hard part is remembering not to reveal the secrets behind them!" - Magic Marigold's backcard story from the back of her toy's box.
Appearance
Edit
Magic Marigold is pink with yellow, white and orange hair. Her eyes are green and her cutie mark is a magician's hat and wand with two marigold flowers coming out of the hat. Her only known appearance is a cameo in Twinkle Wish Adventure where she hadn Apple Space support Mayor Flitter Flutter when she faints.
Merchandise
Edit
Magic Marigold was released initially as a single pony, then later as a Toys 'R Us Exclusive 4-pack in 2007 with Bowtie, Gardenia Glow and Tropical Delight.