Mistletoe is a character in the G3 franchise.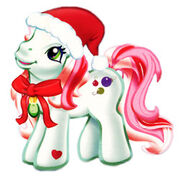 MISTLETOE loves to rush into winter fun! She was a little too quick, though, when she got to the skating pond only to discover she'd brought three skates instead of four! - Mistletoe's backcard story from the back of her toy's box.
Appearance
Edit
Mistletoe is white with red, pink, and white hair. Her eyes are light green and her cutie mark is a red ornament, a purple ornament and a yellow-greenish ornament. She had no on-screen apperances.
Merchandise
Edit
As a member of the Winter Series II, Mistletoe's merchandise was very limited.
Ad blocker interference detected!
Wikia is a free-to-use site that makes money from advertising. We have a modified experience for viewers using ad blockers

Wikia is not accessible if you've made further modifications. Remove the custom ad blocker rule(s) and the page will load as expected.