Mittens is a pony from the G3 franchise.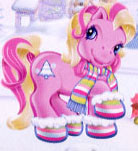 Whenever it starts to snow, MITTENS has a winter party. She and her friends build snowmen, ski through the woods and make snow angels. Then everyone gets inside to warm up beside the fireplace to warm up and toast marshmallows!  - Mittens' backcard story from the back of her toy's box.
Appearance
Edit
Mittens is pink with fuchsia and gold hair. Her eyes are blue-purple and her cutie mark is a snow-covered evergreen tree, though her re-release has a pair of mittens for a cutie mark. She had no on-screen appearances.
Merchandise
Edit
Mittens was first released as part of the Winter Ponies in 2003. Later, She was re-released in 2007 as part of the 25th anniversary of the franchise.