Moondancer is a pony in the G3 franchise.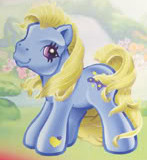 MOONDANCER is so excited - she's having a moonlight slumber party tonight, and all her friends are invited. She's been prancing around Ponyville all day, inviting every pony she sees. She needs to gather just a few more things to make this the best party ever! - Moondancer's backcard story from the back of her toy's box.
Appearance
Edit
Moondancer is light blue with light yellow hair. Her eyes are light purple and her cutie mark is a night sky with a moon and stars. Moondancer appears in a few of the animated movies and shorts, mostly as cameos. She first appears in A Very Minty Christmas among the ponies listening to Pinkie Pie's speech. In The Princess Promenade, she can be seen mostly during the song "Friendship and Flowers" by the rose garden. Later, she's seen enjoying the scent of a rose she's holding. In Positively Pink, she's among the ponies setting up for Pinkie Pie's surprise birthday party. In Meet the Ponies, she's with Puzzlemint and Wysteria clapping at the end of the fashion show.
Merchandise
Edit
Moondancer didn't get a whole lot of merchandise but among them is her release as part of the Moonlight Celebration playset.