Peachy Pie is a character from the G3 franchise.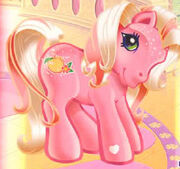 Need a hug? Then take a walk over to PEACHY PIE's house. This loving pony always has plenty of big warm hugs for her friends. Sit down with a cup of tea and a fluffy blanket, and she'll have you feeling good as new! - Peachy Pie's backcard story from the back of her toy's box.
Appearance
Edit
Peachy Pie is pink with salmon and light yellow hair. Her eyes are green and her cutie mark is a peach. She does have cameos in the G3 movies, mostly as a background character. In "A Very Minty Christmas", she can be seen at the beginning of the movie with Daisyjo and Minty watching as the sleigh rises up in front of them during the song "That's What I Love About Christmas". In "The Princess Promenade", she can be seen among the crowd towards the end of the movie around the time Wysteria is giving her life's lesson but before she calls ponies up to become princesses.
Merchandise
Edit
Peachy Pie has seemingly little merchandise despite having multiple cameos in the G3 movies.
Ad blocker interference detected!
Wikia is a free-to-use site that makes money from advertising. We have a modified experience for viewers using ad blockers

Wikia is not accessible if you've made further modifications. Remove the custom ad blocker rule(s) and the page will load as expected.