Peri Winkle is a character from the G3 franchise.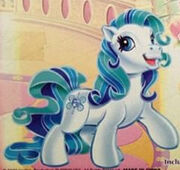 Every morning, PERI WINKLE reads her friends' horoscopes to let them know what the day has in store for them. Her motto is, "No matter where the stars are, you can make every day a wonderful day!" Peri Winkle's backcard story from the back of her toy's box.
Appearance
Edit
Peri Winkle is white with blue, cyan and dark blue hair. Her eyes are blue and her cutie mark is a blue jewel in the center of a swirly design.She had no on-screen appearances.
Merchandise
Edit
Peri Winkle had more merchandise than other Jewel Ponies but only because of its inclusion as a bonus pony with the Sweet Reflections Dress Shop and Celebration Salon playsets.
Ad blocker interference detected!
Wikia is a free-to-use site that makes money from advertising. We have a modified experience for viewers using ad blockers

Wikia is not accessible if you've made further modifications. Remove the custom ad blocker rule(s) and the page will load as expected.