Piccolo is a character in the G3 franchise.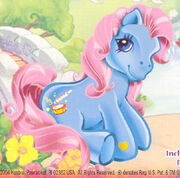 No one can feel blue for very long when PICCOLO is around! This cheery pony is always humming or whistling a lighthearted tune (sometimes she even whistles when she talks!). An eternal optimist, she can see the bright side of any situation! - Piccolo's backcard story from the back of her toy's box.
Appearance
Edit
Piccolo is light blue with pink hair. Her eyes are blue and her cutie mark is a white piccolo with an orange, yellow and pink drum and music. She makes cameos in A Very Minty Christmas and The Princess Promenade, mostly among the crowd, though in A Very Minty Christmas she can be seen putting up decorations too.
Merchandise
Edit
Like Cinnamon Breeze, Piccolo didn't have much merchandise and was included at the now defunct Once Up on a Toy Store. She was also relesased with the Tea Time Fun playset.