Pineapple Paradise is a pony from the G3 franchise.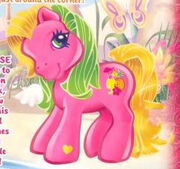 PINEAPPLE PARADISE never misses a single day at Pony Park. When she's not flying a kite or practicing her cartwheels, she's on her cell phone, encouraging her friends to come and enjoy the great outdoors! - Pineapple Paradise's backcard story from the back of her toy's box.
Appearance
Edit
Pineapple Paradise is fuchisia with yellow and bright green hair. Her eyes are bright green and her cutie mark is a tropical drink with a pineapple. She had no on-screen appearances.
Merchandise
Edit
Pineapple Paradise was part of the Butterfly Island Sunny Scents Ponies.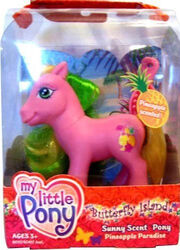 Ad blocker interference detected!
Wikia is a free-to-use site that makes money from advertising. We have a modified experience for viewers using ad blockers

Wikia is not accessible if you've made further modifications. Remove the custom ad blocker rule(s) and the page will load as expected.