Ribbon Wishes is a character from the G3 franchise.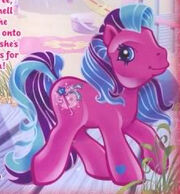 Where is RIBBON WISHES? Sitting under a palm tree, making beautiful seashell jewelry! She shines the shells then strings them onto colorful ribbons. Today, she's making starfish earrings for everyone at the beach! - Ribbon Wishes' backcard story from the back of her toy's box.
Appearance
Edit
Ribbon Wishes is purple with cyan, purple and blue hair. Her eyes are blue-purple and her cutie mark is a magic wand with three smaller stars and a white circle behind them. She had no on-screen appearances.
Merchandise
Edit
As far as merchandise goes, Ribbon Wishes didn't have a whole lot, being only released as part of the Butterfly Island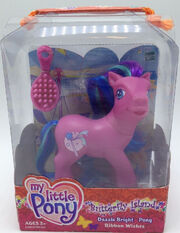 Dazzle Bright Ponies
Ad blocker interference detected!
Wikia is a free-to-use site that makes money from advertising. We have a modified experience for viewers using ad blockers

Wikia is not accessible if you've made further modifications. Remove the custom ad blocker rule(s) and the page will load as expected.