Sand Dollar is a character from the G3 franchise.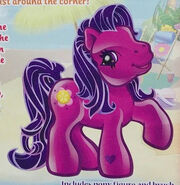 SAND DOLLAR is one busy pony, putting the finishing touches on her giant sand castle in time for the big contest! She's won three years in a row, and hopes she'll be Queen of the Sand Castles again this year! - Sand Dollar's backcard story from the back of her toy's box.
Appearance
Edit
Sand Dollar is dark pink/puprle with dark purple hair. Her eyes are purple and her cutie mark is a sand dollar. She had no on-screen appearances.
Merchandise
Edit
Sand Dollar's only release was as part of the Butterfly Island Dream Designs Ponies, which featured 3D cutie marks.