Seaspray is a character from the G3 franchise.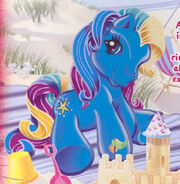 All aboard! SEASPRAY is taking her friends on another exciting boat ride! Today they're sailing all the way out to sea, to explore a mysterious and beautiful island! - Seaspray's backcard story from the back of her toy's box.
Appearance
Edit
Seaspray is blue with light yellow teal, blue and purple hair. Her eyes are dark teal and her cutie mark is a starfish surrounded by bubbles. She had cameos in at least a few of the shorts and movies. In Positively Pink, she can be seen  jokingly asking Minty about her color suggestion. Later, she's among the ponies gathered around Minty when she falls in the bucket of pink paint during preparations for Pinkie Pie's surprise party.  In Twinkle Wish Adventure, she' seen on stage towards the end of the film.
Merchandise
Edit
Seaspray's merchandise was rather limited, being only released as a standalone pony. 
Ad blocker interference detected!
Wikia is a free-to-use site that makes money from advertising. We have a modified experience for viewers using ad blockers

Wikia is not accessible if you've made further modifications. Remove the custom ad blocker rule(s) and the page will load as expected.