Sew-and-So is a pony from the G3 franchise.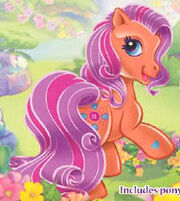 SEW-AND-SO is one of the best-dressed ponies in town - and she makes all her own clothes! Her closet is filled with sparkly skirts, lacy scarves and pretty knit hats. And of course she loves to make fancy outfits for her friends! - Sew-and-So's backcard story from the back of her toy's box.
Appearance
Edit
Sew-and-So is orange with dark pink and purple hair. Her eyes are blue while her cutie mark is a button with four hearts that are stitched together in a pattern. She first appears in "Puzzlemint's Grand Puzzleventure" before the task at her closet. She's also seen during that part of gameplay after you pick out the clothes with Puzzlemint. Sew-and-So's most pominant role is in "The World's Biggest Tea Party" live show, where she's seen throughout.
Merchandise
Edit
Sew-and-So had a fair bit of merchandise from her single release to an appearance in "Rose Blossom's First Christmas".