Shenanigans is a pony in the G3 franchise.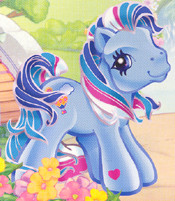 SHENANIGANS' favorite things to do are silly things! Once, she convinced her friends to go on a hot-air balloon ride with her - in their pajamas! Another time she went out for dinner and ordered dessert first! There's no such thing as an ordinary day with this pony! - Shenanigans' backcard story from the back of her toy's box.
Appearance
Edit
Shenanigans is light blue with dark blue, blue, dark pink and white hair. Her eyes are blue-purple and her cutie mark is a hot air balloon with sun and clouds. She had no on-screen appearances.
Merchandise
Edit
Shenanigans had multiple merchandise releases over the years, including during in the Ponyville era of the toy line.