Silver Lining is a character from the G3 franchise.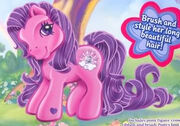 SILVER LINING can see the bright side of any situation. One time, while making a fancy meal, she burnt everything -- dinner was ruined! "That's okay," she laughed. "I love going out to eat!" - Silver Lining's backcard story from the back of her toy's box.
Appearance
Edit
Silver Lining is pink with purple hair. Her eyes are purple and her cutie mark is a silver jewel as the sun with white, silver and purple sunbeams, clouds, and silver stars. She had no on-screen appearances.
Merchandise
Edit
Silver Lining had two types of releases. A standalone release, and as a value pack at stores the likes of Wal-Mart where she came with a Perfectly Pony.