Spring fever is a pony from the G3 franchise.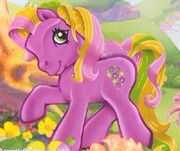 SPRING FEVER likes anything new. She's always the first to try a new recipe, and the first to wear the latest fashions! She loves to see new flowers peeking out from under the snow, and hear baby birds singing in their nests. But most of all, she loves to make new friends!  - Spring Fever's backcard story from the official UK MLP site. 
Appearances
Edit
Spring Fever's only appearance is two cameos in "
A Charming Birthday
". She can be seen with Waterfire applauding Minty
for her success in saving the china cups. Later, she can be seen in the background as Minty and Razzaroo discuss the matter at hoof.
Merchandise
Edit
Spring Fever was originally only in Europe but later was released as part of the Tea Party set with Applejack. Additionally, she was also released as a bonus pony with Dress Up Day Wear Wing Wishes Blossomforth.