Spring Parade is a character from the G3 franchise.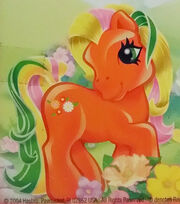 SPRING PARADE loves to be center stage, and nothing suits her more than parading down the streets of Ponyville! In the spring, she leads the Parade of Kites down the boardwalk to the town square, happily posing for pictures along the way! - Spring Parade's backcard story from the back of her toy's box.
Appearance
Edit
Spring Parade is orange with light pink, yellow and green hair. Her eyes are green and her cutie mark is a white and yellow flower, a yellow and pink flower and two smaller red and yellow flowers. She had no on-screen appearances.
Merchandise
Edit
Spring Parade was first released as a regular pony in 2004. She was also available at the now defunct Once Upon a Toy Store.