Star Shimmer is a character from the G3 franchise.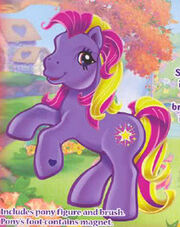 STAR SHIMMER is one of the best-loved ponies in town, because she takes such good care of her friends! You can always count on her to play a new game, tell a funny story or just keep you company. She puts a smile on everyone's face! - Star Shimmer's backcard story from the back of her toy's box.
Appearance
Edit
Star Shimmer is purple with dark pink and yellow hair. Her eyes are salmon and her cutie mark is a fancy star. She had no on-screen appearances.
Merchandise
Edit
Star Shimmer was released as a Toys 'R Us Exclusive with each $1 profit going to the Starlight Children's Foundation,
which deals with seriously ill children and their families.
Ad blocker interference detected!
Wikia is a free-to-use site that makes money from advertising. We have a modified experience for viewers using ad blockers

Wikia is not accessible if you've made further modifications. Remove the custom ad blocker rule(s) and the page will load as expected.