Star Swirl is a white earth pony with pink and white hair. Her cutie mark is a red galaxy spiral.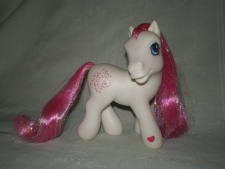 Long after most ponies have gone to bed, Star Swirl is still having fun! She loves to watch rainbow stars travel across the night sky, and make a wish! Day or night, STAR SWIRL is always ready for a new adventure. - Star Swirl's backcard story from the back of her toy's box.
Appearance
Edit
Star Swirl is white with dark pink and white hair. Her eyes are pale blue and her cutie mark is a red galaxy spiral. Star Swirl makes no appearances in the G3 movies and instead makes cameos in the G3 comics included with the My Little Pony Annuals
Merchandise
Edit
As a minor character, Star Swirl had limited merchandise, starting out only in Europe as a two pack, then later getting a re-release.
Ad blocker interference detected!
Wikia is a free-to-use site that makes money from advertising. We have a modified experience for viewers using ad blockers

Wikia is not accessible if you've made further modifications. Remove the custom ad blocker rule(s) and the page will load as expected.