Sunset Sweety is a pony from the G3 franchise.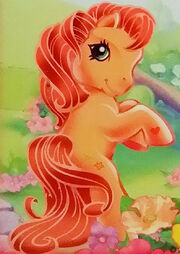 SUNSET SWEETY can be quiet and shy around people she doesn't know. But when she's with her friends, she always has them giggling! She knows lots of jokes and funny stories, and can put a smile on anybody's face! - Sunset Sweety's backcard story from the back of her toy's box.
Appearance
Edit
Sunset Sweety is gold with orange hair. Her eyes are bright green and her cutie mark is two orange lillies. She had no on-screen appearances.
Merchandise
Edit
Sunset Sweety, much like Bee Bop, was only given a small handful of releases and is included in two of the same sets as Bee Bop.