Sunshower is a character from the G3 franchise.
SUNSHOWER plays outside everyday, whether it's sunny or rainy! On bright, clear days she practices cartwheels in the park. On drizzly days, she looks for a great big puddle, so she can sail boats and rubber duckies! - Sunshower's backcard story from the back of her toy's box.
Appearance
Edit
Sunshower is purple with blue, pink and white hair. Her eyes are pale blue and her cutie mark is a sun with a cloud producing rain. She had no on-screen appearances.
Merchandise
Edit
Sunshower's only release was with Luau in a purse. This was originally just exclusive to Wal-Mart but in 2005 was also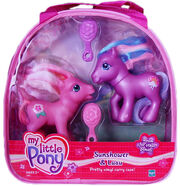 exclusive to Toys 'R Us.
Ad blocker interference detected!
Wikia is a free-to-use site that makes money from advertising. We have a modified experience for viewers using ad blockers

Wikia is not accessible if you've made further modifications. Remove the custom ad blocker rule(s) and the page will load as expected.