Sweet Breeze is a pony from the G3 franchise.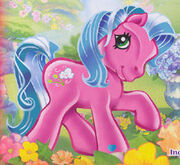 SWEET BREEZE always likes to do things a little differently from everyone else. So it's no surprise that she wears a different perfume every day, so she can smell like every single flower in her garden! - Sweet Breeze's backcard story from the back of her toy's box.
Appearance
Edit
Sweet Breeze is pink with light blue and white hair. Her eyes are green and her cutie mark is a cloud with two yellow flowers blowing in the wind. She had no on-screen appearances.
Merchandise
Edit
Sweet Breeze was released as a regular pony in 2005. Later, she was re-released in 2006 for the Crystal Princess theme with a new pose as part of the Balloon Flying playset. The playset's international release came with three bonus Breezie Ponies.