Sweet September is a character from the G3 franchise.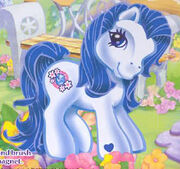 SWEET SEPTEMBER likes to make her own birthday-party invitations. She decorates them with glitter, feathers and ribbons, then personally delivers each and every one! - Sweet September's backcard story from the back of her toy's box.
Appearance
Edit
Sweet September is white with dark blue hair. Her eyes are dark blue and her cutie mark is white and pink flowes with a blue gem. She had no on-screen appearances.
Merchandise
Edit
Sweet September was also a Toys 'R Us Exclusive Jewel Birthday Pony and consequently only got one toy release.
Ad blocker interference detected!
Wikia is a free-to-use site that makes money from advertising. We have a modified experience for viewers using ad blockers

Wikia is not accessible if you've made further modifications. Remove the custom ad blocker rule(s) and the page will load as expected.