The My Little Pony Movie was a G3 movie scheduled for release in Fall 2003 as part of a series of films Hasbro had intended on showing 1000 to 1500 movies at e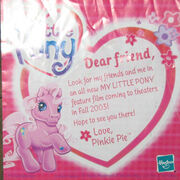 ight to twelve weeks per movie. Unfortunately, this appeared to be too big a challenge for Hasbro and the movie was cancelled but had been advertised on G3 MLP packaging and the Hasbro MLP website up until its cancellation.
It is unknown exactly what would've happened in the movie but the Hasbro MLP site indicated that things were not going to go well for the ponies in it.
Ad blocker interference detected!
Wikia is a free-to-use site that makes money from advertising. We have a modified experience for viewers using ad blockers

Wikia is not accessible if you've made further modifications. Remove the custom ad blocker rule(s) and the page will load as expected.