Tink-A-Tink-A-Too is a pony in the G3 franchise.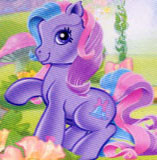 This pretty pony always has a smile on her face...and she makes everyone else smile too! TINK-A-TINK-A-TOO loves to surprise her friends with cards and little gifts, just to let them know she is thinking about them! Tink-A-Tink-A-Too's backcard story from the back of her toy's box.
Appearance
Edit
Tink-A-Tink-A-Too is purple with blue, pink and purple hair. Her eyes are bluish-purple and her cutie mark is a pair of blue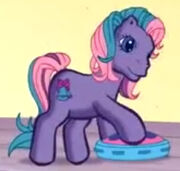 bells topped with a pink bow. She has at least one appearance in the G3 movies, notably in "
Pinkie Pie and the Ladybug Jamboree
" as the original pony to be a part of Pinkie Pie's band, although her colors differ than how they are with her backcard artwork.
Merchandise
Edit
Tink-A-Tink-A-Too has had a fair bit of merchandise over the years.