Triple Treat is a minor character in A Very Minty Christmas and Friends Are Never Far Away. As her name suggests,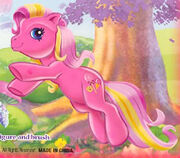 her apperances involve her around treats.
You need to have a lot of energy to keep up with TRIPLE TREAT! This pretty pony is always on the go, but she always makes time to stop for dessert! Her favorite treat? Peppermint ice cream with chocolate chip cookies and a red lollipop on top! - Triple Treat's backcard story from the back of her toy's box.
Appearance
Edit
Triple Treat is light purple in her movie apperances despite her toy being pink.Her hair is yellow and pink while her eyes are blue. Her cutie mark is an ice cream cone, a lollipop and a cookie. She's first seen in Friends Are Never Far Away as part of a group of ponies deciding on the sundae for the party. Most of her other appearances are of equally small roles or cameos as she appears in A Very Minty Christmas to help decide the flavor for the Here Comes Christmas Candy Cane before G3 Cotton Candy intervenes. She has another apperance in "Pinkie Pie and the Ladybug Jamboree" as a member of Pinkie Pie's band during their performance, though this is likely an error due to whom was in Pinkie Pie's band at the start of the animated short. Triple Treat also appears in an animation for a TV commercial advertising the Roller Skate Party Cake playset. She can be seen with Bunches-O-Fun in the background as Pinkie Pie pases by on her roller skates.
Merchandise
Edit
Triple Treat received a fair bit of merchandise from different branches, including an ornament and an activity book.