Tropical Delight is a character from the G3 franchise.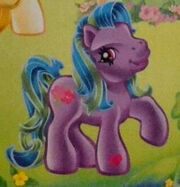 When the weather turns warm, TROPICAL DELIGHT is always the first pony at the beach! And after a day of sun and fun, she loves to roast marshmallows over a campfire, singing songs with her friends! - Tropical Delight's backcard story from the back of her toy's box.
Appearance
Edit
Tropical Delight is purple with blue and green hair. Her eyes are purple and her cutie mark is two hibiscus flowers. She had no on-screen appearances.
Merchandise
Edit
Tropical Delight was only released as a four-pack with Princess Peppermint, Banjo Blue and Flutterbutter as a Toys 'R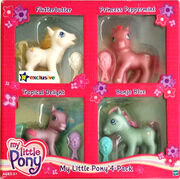 Us Exclusive. Consequently, this made her harder to find.
Ad blocker interference detected!
Wikia is a free-to-use site that makes money from advertising. We have a modified experience for viewers using ad blockers

Wikia is not accessible if you've made further modifications. Remove the custom ad blocker rule(s) and the page will load as expected.